Why Ben Simmons and the Nets need each other -- and why he referenced the 2018 playoffs as he was introduced - CBSSports.com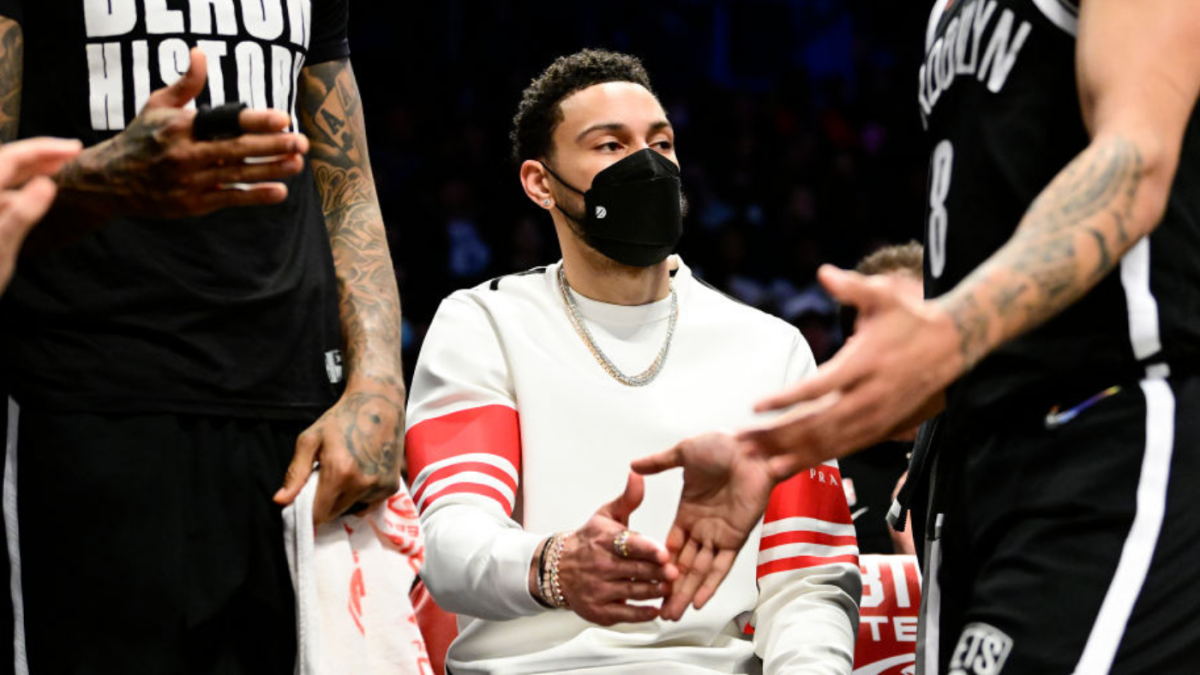 Here's one of the best moments of Ben Simmons' NBA career: 
It was a much simpler time: April 21, 2018. The Philadelphia 76ers were about a minute away from taking a 3-1 lead in their first-round series against the Miami Heat. Simmons, then a 21-year-old rookie, would finish the game with his first playoff triple-double, after coming close in the three preceding games. 
That night, Miami coach Erik Spoelstra could have blasted his team for surrendering that wide-open dunk, or for giving up an open jumper to one of the best shooters in NBA history, JJ Redick, on another crunch-time possession. Instead, Spoelstra praised Philadelphia's offense. 
"This team has a lot of different triggers you have to deal with," Spoelstra told reporters. "It's not as if you can just focus on one guy. It's not necessarily just a complete (defensive) breakdown, that's what this team does."
Then-Sixers coach Brett Brown had come from San Antonio with a mantra: The pass is king. A week before Simmons' explosive dunk, when I tweeted that I missed the "beautiful basketball" version of the Spurs, I got a message from someone who worked for the Sixers, saying, "We right here my man." 
CBS Sports HQ Newsletter
Your Ultimate Guide to Every Day in Sports
We bring sports news that matters to your inbox, to help you stay informed and get a winning edge.
Please check the opt-in box to acknowledge that you would like to subscribe.
Thanks for signing up!
Keep an eye on your inbox.
Sorry!
There was an error processing your subscription.
Simmons was the point guard, but it wasn't his job to break down the defense on every halfcourt possession. Brown continually came up with new plays, often to free up shooters. When the initial action didn't produce an advantage, he wanted Philadelphia to move the ball to the second side and flow into another one.
"It's easy for me," Simmons said back then. "Once the team is flowing and we're sharing the ball and moving the ball, it's not started by one player. I think it's just everybody playing as a team and getting a flow and a feel for the game."
On Tuesday, during his introductory press conference at the Brooklyn Nets' practice facility, Simmons brought up that series against the Heat. On his new team, he said he wants to play like that again.
"Just the way we were flowing and playing, that's how I know how to play basketball. I'm a team player," Simmons said. He invoked the names of Redick, Ersan Ilyasova and Marco Belinelli and said that he likes to see all five players involved in the offense. 
"That's the way you gotta play to win," he added. "If you want to be a winner, you gotta play with all the guys on the floor and use everybody's abilities and maximize the abilities everybody has."
It is unclear who, exactly, will be on the floor when Simmons makes his Nets debut. The unvaccinated Kyrie Irving is not allowed to play in Brooklyn, Kevin Durant is recovering from a knee injury, Joe Harris might require a second ankle surgery and Simmons himself is still working toward his return. He could be rusty, and some lineups could look clunky -- Brooklyn has so many big men that opening-night starter Nic Claxton got a DNP-CD on Monday. The promise of Simmons and the Nets, though, is that they need each other to be who they want to be.
Simmons doesn't just bring Brooklyn balance in the form of all-world defense, rebounding and transition play. He will help the team play with pace in the halfcourt. Coach Steve Nash wants every offensive player to be a threat at all times, and, at their most unstoppable, last season's Nets combined an unselfish, aesthetically pleasing style with devastating isolation play. Having added Simmons and Seth Curry and subtracted James Harden (who was not exactly on the same page as Nash, per Bleacher Report's Jake Fischer), they can do that more naturally. 
The key to unlocking Simmons is to get him on the move and surround him with players who can improvise. His believers still point to the 16-game winning streak at the end of his rookie season and specifically to the spacing he had with Redick, Ilyasova and Belinelli next to him and Joel Embiid sidelined. Sometimes, they compare Simmons to Giannis Antetokounmpo, who went from All-Star to MVP when the Milwaukee Bucks surrounded him with shooters and played 5-out. Those Sixers didn't play like the Bucks, though, and Simmons' strengths are different than Antetokounmpo's. It wasn't just the spacing that brought out the best in him; it was the movement.
Nash has already talked about using Simmons as both a ballhandler and a screener in pick-and-roll situations. Simmons and Curry were unguardable running their two-man game with an empty side last year, just like he and Jimmy Butler were for about half a season. He'll do his sneaky little handoffs to shooters (Irving, Durant, Curry, Patty Mills, maybe Harris) in semi-transition, and he'll barrel through the lane for dunks off of throw-and-gos and fake dribble-handoffs. It helps that the guards can pick-and-pop and the stars can dominate games without dominating the ball.
With the exception of 2019-20, the year of Philadelphia's ill-fated bully-ball experiment featuring Al Horford, its starting lineup had an elite halfcourt offense in every year of Simmons' career. There's no reason that trend shouldn't continue for Brooklyn, and, provided that it is close to full strength -- and that Simmons regains confidence in his free throw shooting -- this team is equipped to avoid the stagnation that sunk Simmons and the Sixers in several playoff series. If the Nets run their pretty stuff and it doesn't give them an advantage, then Durant or Irving can create one out of thin air.  
"Having those guys running alongside me, multiple different weapons on the floor, I think, at the pace we want to play at, it's going to be unreal," Simmons said.
On Monday, Nash called Simmons "a non-traditional basketball player who gets it done in so many different areas" and said it will be fun to "help him find his best level." While Simmons said that his trade request and holdout in Philadelphia were not about basketball, it's clear that he didn't believe he could find that level there, on a team that he no longer trusted, in an offense that had become more methodical and post-oriented. Just like Harden, he has forced his way to a place that he prefers. It's time now -- er, soon -- for Simmons to remind everybody what he can do.